Respite care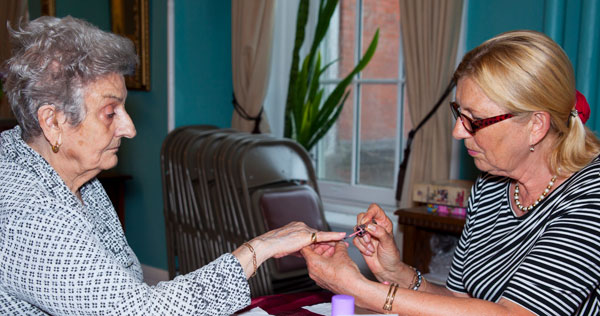 For many, the challenges of caring for an elderly family member are simply part of daily life. Caregiving, however, is a demanding job, and taking a break can be a positive step for both the caregiver and his or her loved one. Vassar-Warner Home's respite care program is licensed by the New York State Department of Health and offers caregivers an opportunity to travel, or simply take a break to relieve stress, restore energy and promote balance in their lives.
Stays can be reserved for four or more days, up to 42 days in a calendar year. Accommodations are based on availability and the guest's ability to meet admission guidelines.
Respite Care Services
Engaged and attentive staff are available 24-hours per day to address personal care needs
Newly updated 24-hour, wireless emergency call system
Three nutritious meals, healthy snacks, and all-day beverage service are offered daily
On-site wellness services, including primary care, podiatry, pharmaceutical, laboratory, and mental wellness
Coordination of medical care and transportation arrangements
Housekeeping, linen, and laundry services—we even iron!
Building maintenance, inside and out
Respite Care amenities
On-site convenience store, The Shopping Place, offering sundries and treats—chocolate is a favorite purchase!
Comfortable private, furnished room
On-site resident banking
Wi-Fi access throughout the building
Cable TV in common area and in respite room
On-site unisex full-service salon for residents
Interactive activities program
Decorated common areas and landscaped grounds
Well-stocked library of books and games
Large parlor for group activities such as movies, karaoke, entertainment, weekly happy hour and birthday celebrations
Small lounge for small group activities or quiet reading
Elevators access to all floors
Beautiful verandas with scenic views
Emergency Equipment & Plans
Vassar-Warner Home has an evacuation and disaster plan. We hold monthly fire drills on alternating shifts to familiarize residents and staff with emergency evacuation routes and procedures. Our building is equipped with a full-capacity generator and a 72-hour fuel supply for power outages.