Things to See & Do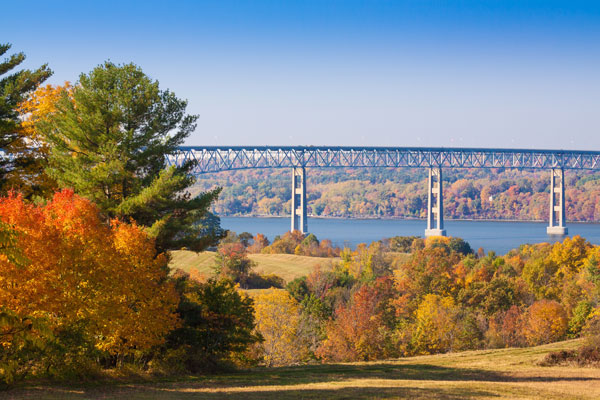 Vassar-Warner Home is nestled in the heart of the Hudson Valley and is centrally located to a number of entertainment venues, historic attractions, dining, shopping, parks and much more. Families are encouraged to visit their loved ones and enjoy all that the region has to offer. Below are just a few of the many things to do during your stay.
Places to See & Do
Walkway Over the Hudson State Park
Poughkeepsie Entrance
61 Parker Avenue
Poughkeepsie, NY 12601
(845) 834-2867
www.walkway.org/nysparks.com/regions/taconic/default.aspx
Walkway Over the Hudson State Historic Park is a linear walkway spanning the Hudson River. At 212 high and 1.28 miles long, it is the longest, elevated pedestrian bridge in the world. Visitors can walk, run or bike across the Walkway that spans from Poughkeepsie to Highland.
Frances Lehman Loeb Art Center at Vassar College
124 Raymond Ave, Poughkeepsie
(845) 437-5237
fllac.vassar.edu/
The Frances Lehman Loeb Art Center was founded in 1864 as the Vassar College Art Gallery. With over 17,000 works, the collection within the gallery highlight the history of art from antiquity to present day. The gallery is open Tuesday, Wednesday, Friday and Saturday from 10:00 am to 5:00 pm, Thursday from 10:00 am – 9:00 pm and Sunday 1:00 pm – 5:00 pm.
Powerhouse Theater
Vassar College
124 Raymond Avenue, Poughkeepsie
(845) 437-5907
powerhouse.vassar.edu/index.html
The summertime Powerhouse Theater, a collaboration between New York Stage and Film and Vassar College, is dedicated to emerging and established artists in the development and production of new works for theater and film. For six weeks every summer the Powerhouse Season brings fully-produced plays, musical workshops, and readings of works-in-progress to the college campus.
Locust Grove—Samuel Morse Historic Site
2683 South Rd (Rte. 9), Poughkeepsie, NY
(845) 454-4500
www.lgny.org
Locust Grove, a 150-acre estate and Tuscan-style villa that was purchased by Samuel Morse,  a 19th century painter includes a man-made lake, waterfall, and lovely gardens. A recent addition to the estate is a small museum dedicated to the life, art, and inventions of Morse, and visitor center that shows a film on the estate and Morse's life.
Culinary Institute of America (CIA)
1946 Campus Drive, Hyde Park, NY
(845) 451-1588
www.ciachef.edu
Overlooking the Hudson River, the CIA's main campus in Hyde Park is a home to several student-staffed, public-facing restaurants including the American Bounty Restaurant, The Bocuse Restaurant, Post Road Brew House, Ristorante Caterina de' Medici and the Apple Pie Bakery Café.
Minnewaska State Park Preserve
U.S. 44/Rte. 55, 5 mi from Rte. 299, New Paltz, NY
(845) 255-0752
www.nysparks.com
The park encompasses 12,000 acres in the Shawangunk Mountains. Much of the terrain is wooded and rocky, but there are also trickling streams, gushing waterfalls and spectacular valley views.
Mohonk Mountain House (hotel, spa, hiking trails)
1000 Mountain Rest Road, New Paltz, NY
1 (800) 772-6646
www.mohonk.com
Surrounded by thousands of acres of unspoiled forest and winding trails, this seven-story Victorian castle hotel has successfully maintained its distinct 19th-century character into the 21st century. For day visits, guests can purchase a meal, spa treatment or grounds pass for property access.
Home of Franklin D. Roosevelt National Historic Site
4097 Albany Post Road
1 (800) FDR-VISIT
www.nps.gov/hofr
The Home of Franklin D. Roosevelt National Site contains "Springwood", the lifelong home of America's only 4-term President as well as the Franklin D. Roosevelt Presidential Library and Museum. Visitors can enjoy a guided tour of FDR's home, take a self-guided tour of the museum and library, stroll the ground, gardens and the trails of the 300-acre site.
The Eleanor Roosevelt National Historic Site at Val-Kill
Hyde Park, NY
Route 9G, Hyde Park
(845) 229-9115
www.nps.gov/elro
Both Eleanor Roosevelt and Franklin D. Roosevelt grew up in the Hudson River Valley. After his death, Eleanor—one of the most admired and influential women in American history—lived and worked out of Val-Kill Cottage, the only home she owned. A simple, rustic home, Val-Kill, now a public museum, is where Eleanor received world leaders and made her mark on civil rights legislation and international humanitarian issues. Visitors can enjoy the gardens and grounds and see an introductory film and permanent exhibit.
The Vanderbilt Mansion National Historic Site
Route 9, Hyde Park, East Side of the Hudson
(845) 229-9115
www.nps.gov/vama
This lavish estate was the home of wealthy 19th-century industrialist Frederick William Vanderbilt. The 54-room country palace was built in 1898 and is one of the first steel-framed houses in the U.S. In addition to a tour of the house, visitors can stroll on 211 acres of park land that boast centuries old tree plantings, stunning Hudson River and Catskill Mountain views, and Italian gardens maintained by volunteers of the Frederick William Vanderbilt Garden Association.
Dia:Beacon Art Museum
3 Beekman St, Beacon, NY
(845) 440-0100
www.diabeacon.org
In what used to be a Nabisco box-printing factory, the Dia Art Foundation has created the world's largest contemporary-art museum. The new museum houses Dia's rarely seen permanent collection of pivotal conceptual, minimalist, and Earth artists, mostly men who came of age in the 1960s and 1970s.